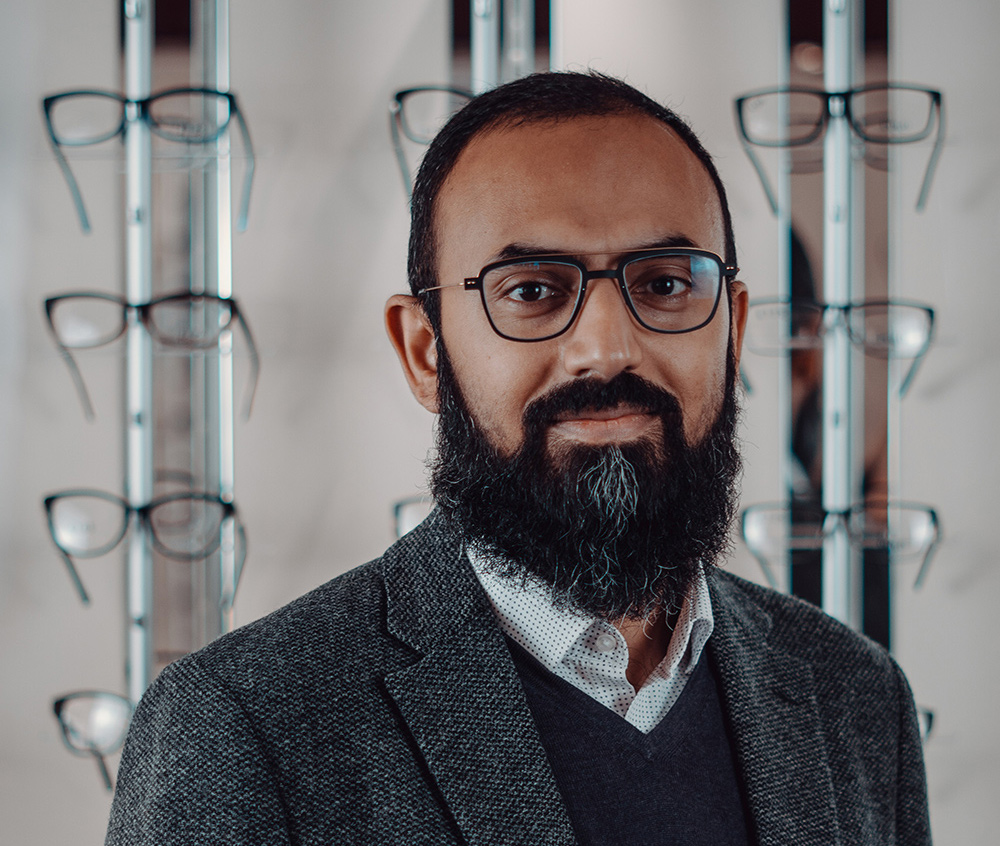 Javaid Iqbal
The Ambassador
Ambassador for Ophthalmic Public Health

Javaid graduated from City University (London) in 2001 with an honours degree in Optometry. He completed his professional College of Optometrists membership training in Derbyshire and lived for a short spell in Manchester. Since qualifying and becoming a GOC registered practitioner, he has spent most of his professional life working in Leeds.
In early 2006, after the unfortunate death of the much-loved owner-optometrist, late Mr Edwin Day, Goldwyn Opticians was taken over by Javaid. Since then, he has worked tirelessly to modernise the business in terms of products available, clinical technology and systems.
In 2013, he undertook post graduate study at the Faculty of Medicine (University of Leeds) in the area of Ophthalmic Public Health. His dissertation was on Smoking and Eye Disease.
His areas of ophthalmic interest include; Myopia, Cataracts and Age Related Macular Degeneration. Javaid attends eye health/optometry conferences throughout England and a large portion of his time is spent in continuous professional education and training.
Other than working in clinical optometric practice, his role involves overlooking business operation, developing new areas of business, dealing with suppliers and NHS England related matters.
Javaid lives with his wife and two children in north Leeds. His interests include cycling, walking, cooking, film and reading. He reads anything he can get his hands but his favourite book is The Alchemist by Paulo Coelho.
Frame of choice:
Ray-Ban Aviator in Gold.
Why? Timeless classic and goes with almost anything!
Lenses of choice:
Mid Index Transitions XTRActive Brown Lenses.
Why? Perfect all-year round. Lovely light residual tint indoors and brilliant darkening outdoors.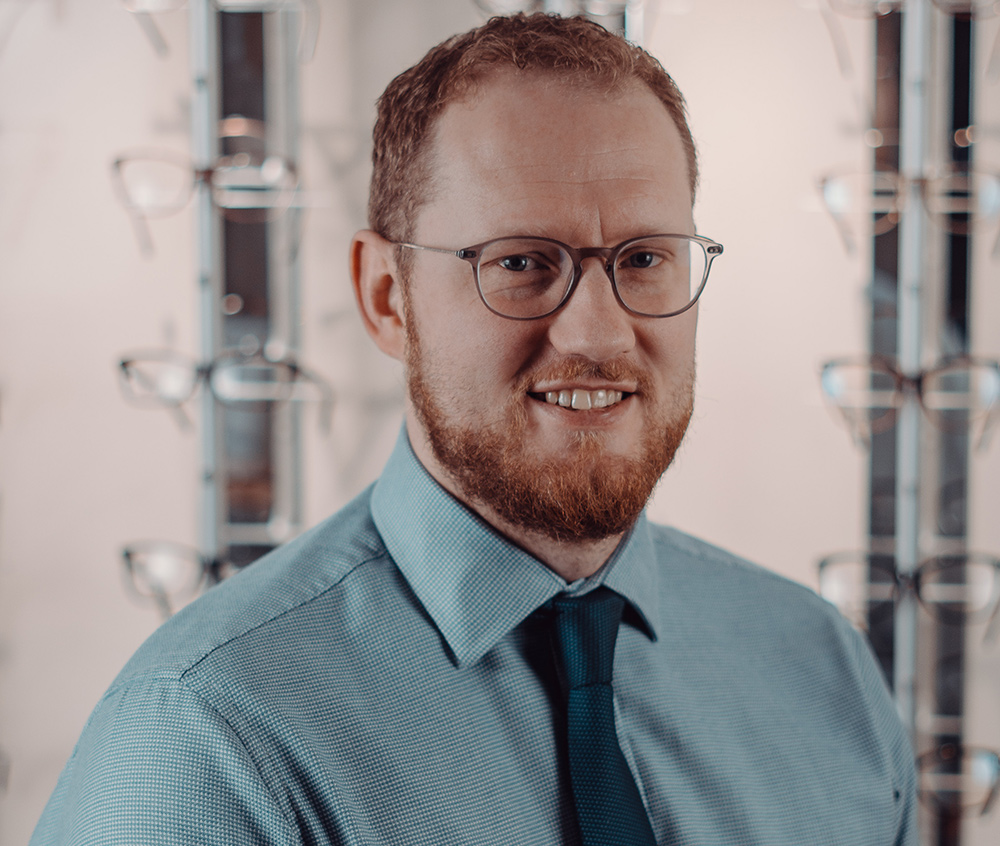 Michael Blenkinsop
Dispensing Optician
Branch:
Michael is based at our Otley branch
For Michael optics runs in the blood. He is the 2nd generation of Opticians within his family. He has over 18 years experience and prides himself on his product knowledge and practical ability.
Michael particularly loves pleasing customers by using his experience to select high quality  frames and lenses to suit a customer's personality, style and prescription. He is knowledgeable, efficient and friendly.
Outside of work Michael loves spending time with his partner and their children. He also enjoys dog walking, kickboxing, woodwork and metalwork, along with general DIY.
Frame of choice:
Lindberg Air Rim Titanium.
Why? With multiple sizes and colour options, the frames can be tailored to your preference. It is such a lightweight, stylish range of frames with exceptional engineering and durability.
Lenses of choice:
Zeiss Drivesafe Individual with DuraVision Drivesafe.
Why? The Drivesafe lens design and coating cuts out the glaring blue light emitted by Xenon and LED headlights whilst increasing depth of field in low light conditions.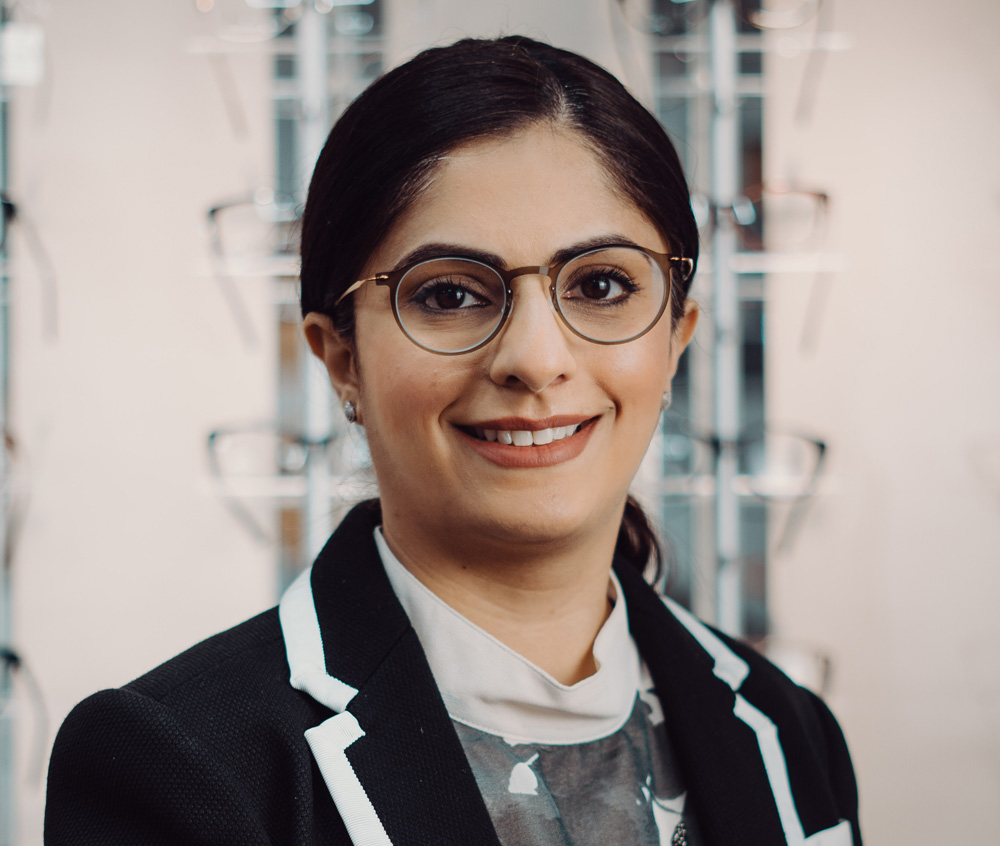 Rehana Hussain
Clinical Lead
Branch:
Rehana works across all our branches, Shipley, Otley, Armley and Harehills.
After graduating with an honours degree from the University of Bradford in 2002, Rehana completed her professional training in Huddersfield, West Yorkshire.
Over the years, she has gained extensive experience working in both multiple chain and independent practice settings.
Other than her clinical work at Goldwyn Opticians, she continues to work as clinic supervisor at the University of Bradford. Her role involves teaching and assessing undergraduate students in clinical skills.
In 2007, Rehana joined in the Vision Aid Overseas team. The outreach project involved working in the small villages of Ethiopia; refracting, detecting eye disease, training ophthalmic nurses and dispensing spectacles.
In 2016 she completed the Minor Eye Condition Services training and became a MECS accredited optometrist. Areas of her ophthalmic interest include anterior eye disease, dry eye and glaucoma. Rehana leads our dry eye clinic service.
As well as attending networking events with local ophthalmologists and allied healthcare professionals, Rehana is also keen on peer review meetings.
She lives with her husband and son in Bradford. Her hobbies include interior design, art & crafts, gardening and exploring wildlife. Her favourite book is A Thousand Splendid Suns by Khaled Hosseini.
Frame of choice:
Ray-Ban Wayfarer
Why? It's an iconic bold frame that is super stylish.
Lenses of choice:
Polaroid Lenses.
Why? I can't stand surface glare; Polaroid lens technology eliminates glare and so is perfect for driving in those early hours.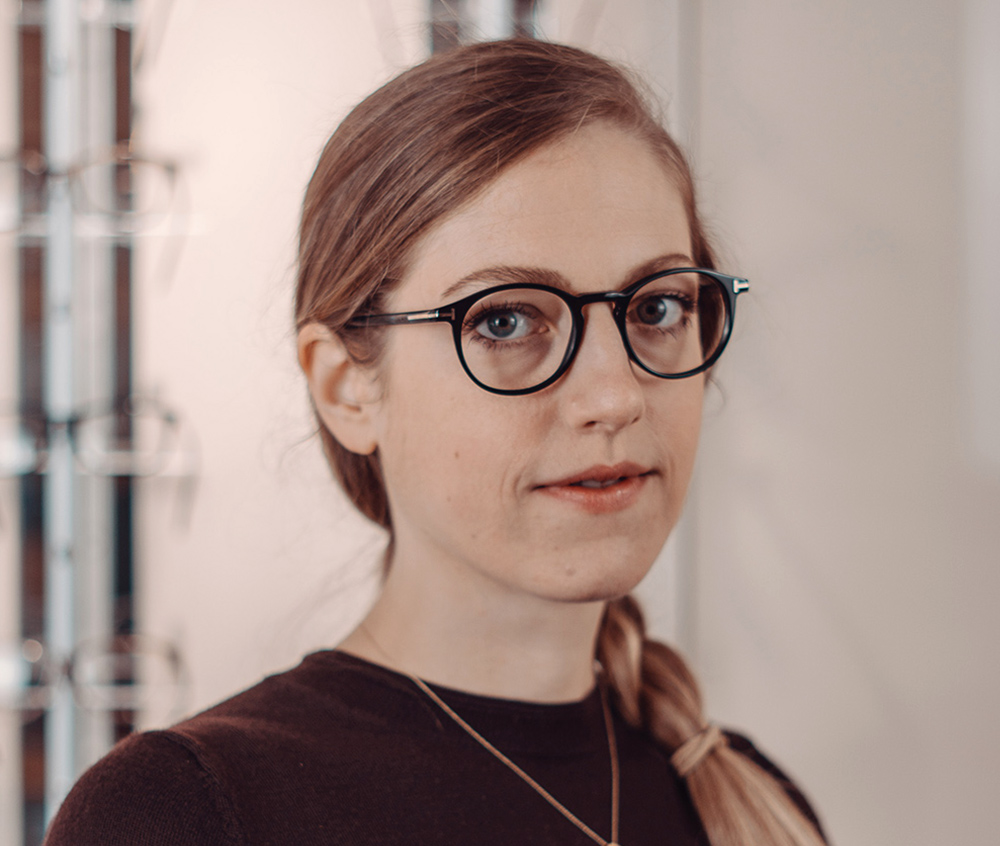 Clair Holt
Senior Optometrist
Branch:
Clair works in our Otley branch
Clair completed her undergraduate training at The University of Bradford attaining her honours degree in 2009. She completed her postgraduate training at an independent optician on the Isle of Wight before qualifying with the College of Optometrists in 2010.
She remained on the Isle of Wight for several years, moving back to Yorkshire in 2012 where she worked as a domiciliary eyecare provider. She has also worked in independent practice (including Paul Verity Opticians) and as a clinical supervisor at The University of Bradford.
Clair Joined Sydney Goldwyn Opticians in 2019 working in our Otley branch where you might know her from her stint at Verity's between 2012 and 2015. She is known for providing a professional and caring service with a thorough approach.
She is particularly interested in myopia, children's sight tests and contact lens practice. Clair attends educational events regularly.
She lives in Otley with her husband and enjoys walking, yoga, cooking and reading.
Frame of choice:
Lindberg air rim Jackie
Why? They're lightweight, strong and flexible so great for sports, and I like their retro look.
Lenses of choice:
High index aspheric Essilor lenses.
Why? A thin and lightweight lens is essential for my strong prescription.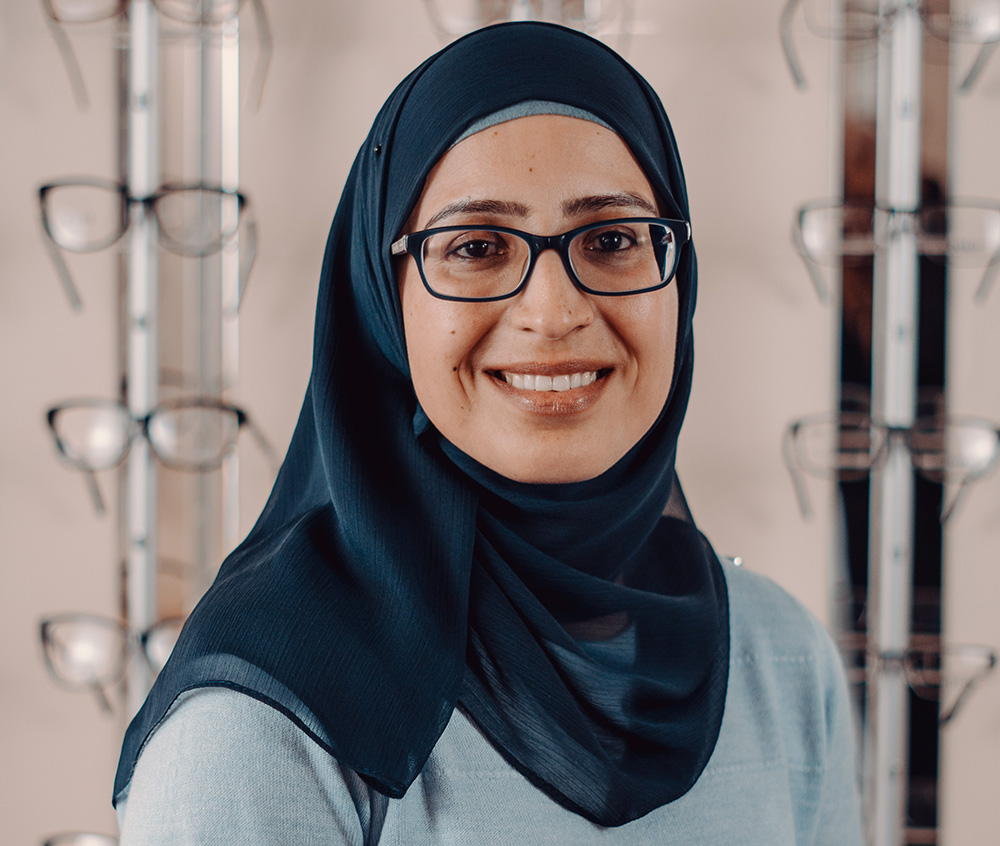 Tasneem Kauser
Senior Optometrist
Branch:
Tasneem is based at our Shipley branch
Tasneem completed her undergraduate training at The University of Bradford before moving to Telford for her pre registration year. She attained her professional qualifications in 2001 and has been with Verity/ Goldwyn Opticians since 2010.
Tasneem's favourite thing about her job is being able to help people and make a difference to their lives. She also loves having the opportunity to constantly learn. Tasneem regularly attends educational and peer review events and enjoys the challenge of staying up to date with the optometric profession's ever changing technology.
Outside of work Tasneem loves spending time with her family and going on holidays, particularly city breaks. She is also studying arabic.
Frame of choice:
Calvin Klein
Why? Because they look good on everyone.
Lenses of choice:
Essilor Eyezen
Why? It's an innovative anti fatigue lens and the Prevencia coating helps prevent UV damage.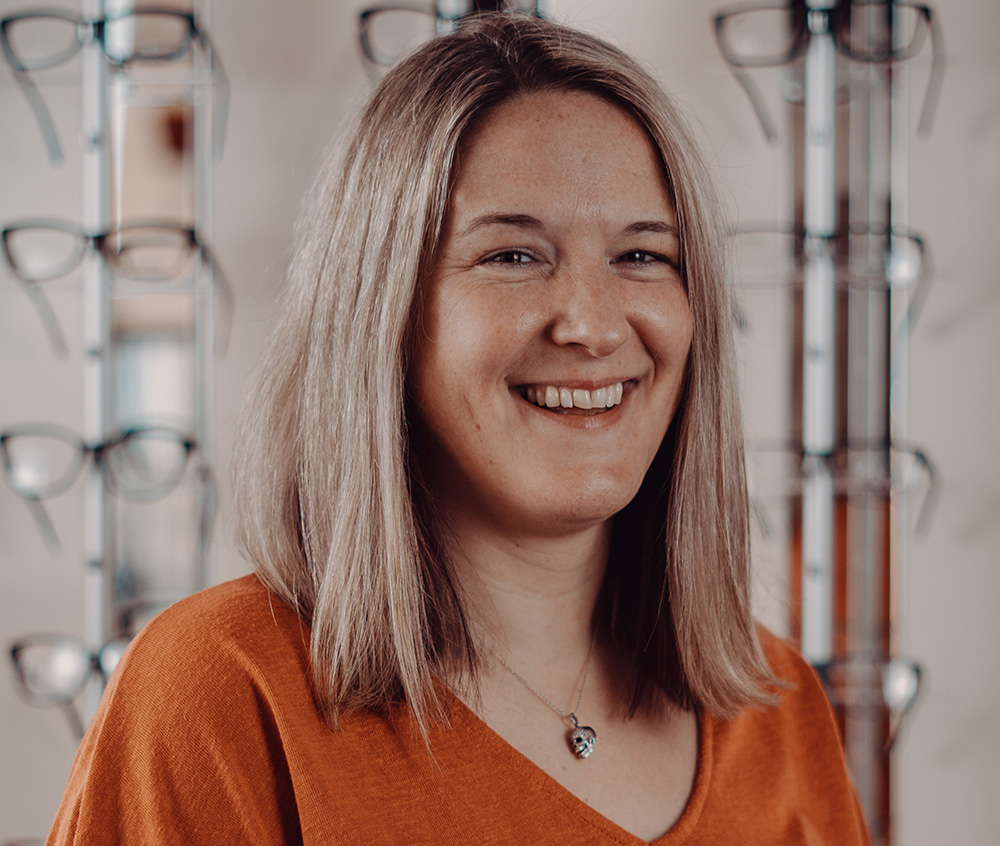 Joanne Littlefair
Practice Manager / Lens Expert
Branch:
Joanne is based in our Shipley branch
Joanne has been with Sydney Goldwyn/Verity  for 13 years and has over 15 years of retail experience.
In her spare time Joanne likes to keep fit with cycling, running and netball. Joanne also loves to spent time with family and friends.


Frame of choice:
Lindberg
Lenses of choice:
Essilor Eyezen Boost with Prevencia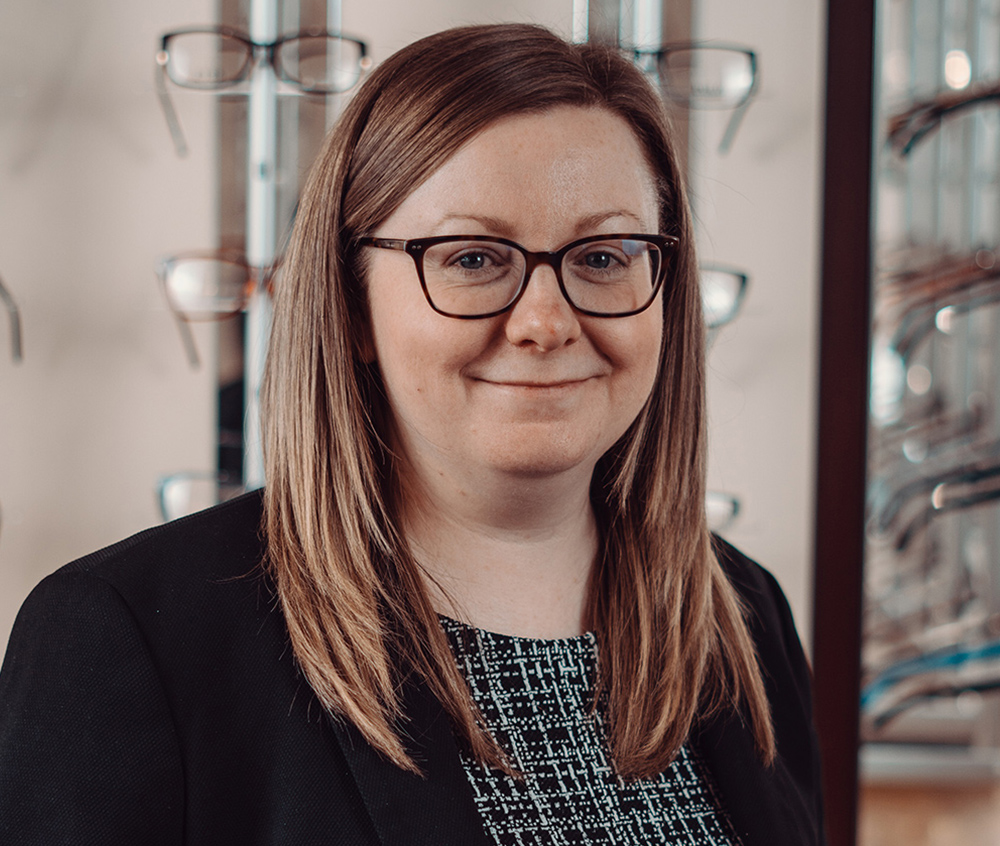 Laura Kay Dhariwal
Dispensing Optician
Branch:
Shipley branch.
Qualifications: NVQ Optical Retail, FBDO, (BA Hons Primary Education and ICT with QTS)
Experience: Laura has eight years experience in the optical industry and is new to Sydney Goldwyn.
Laura was looking for a change in career after working as a teacher and working in an opticians gave her the opportunity that she was searching for. She began as an optical assistant and gained an NVQ in Optical Retail. She knew she wanted to keep progressing so went on to earn her Dispensing Optician qualification from ABDO college in Canterbury in 2017.
Laura has worked in multiple opticians but prefers the personal service that can be provided by a local optician.
Laura grew up in the countryside on the outskirts of Leeds. She moved when she got married in 2018 and now lives locally with her husband. Together they love travelling and they have been lucky enough to visit some beautiful places, one of Laura's favourites being Kefalonia.
Frame of choice:
Rayban 5228.
Why? Rayban are an iconic brand that just about everyone recognises and there's always a Rayban style that can suit someone. The 5228 has been a favourite of mine as it's such a versatile style that is available in different colours and sizes.
Lenses of choice:
Zeiss individual.
Why? The name Carl Zeiss is synonymous with high quality lenses. Zeiss provide excellent finishes that are super durable and easy to keep clean. They provide stunning clarity which I have complete confidence in.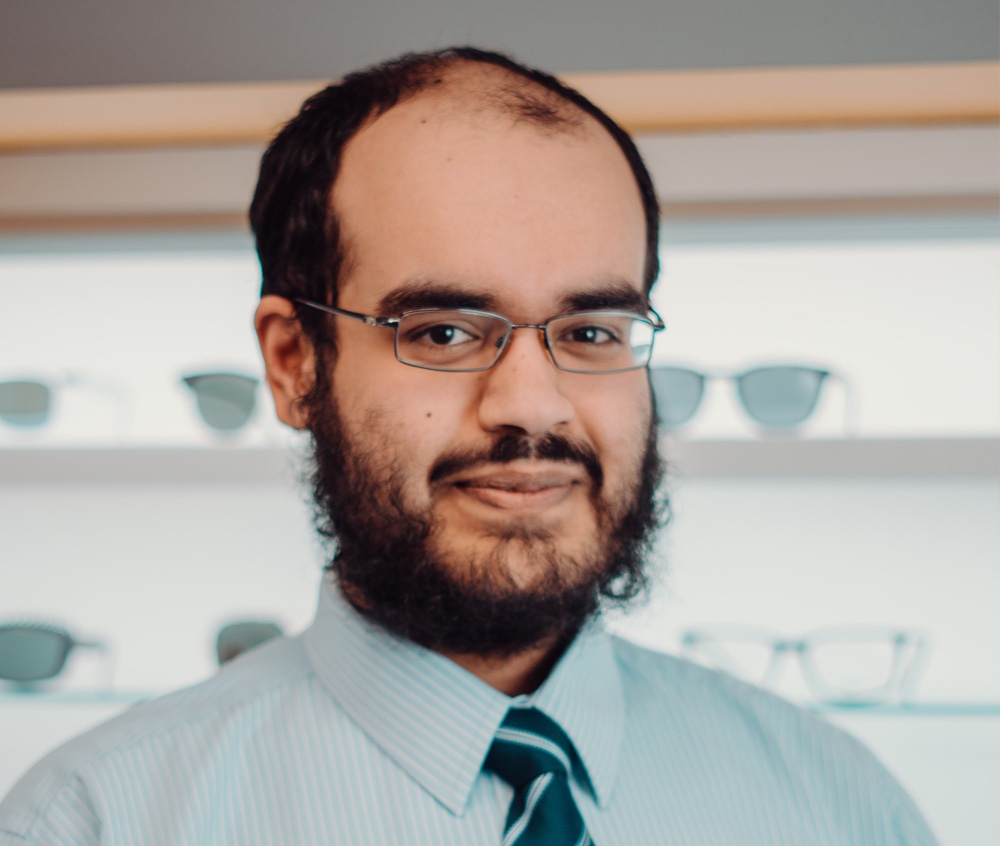 Mohammed Hussain
Optometrist
Branch:
Mohammed works across all our branches; Armley, Harehills, Otley and Shipley.
Mohammed graduated with first class honours from The University of Bradford in 2014. He completed his postgraduate training at a large multiple, completing his professional qualifications in 2015. Mohammed is a member of the College of Optometrists.
Mohammed joined Sydney Goldwyn Opticians in March 2019. He has a friendly and clinically meticulous approach to eyecare. He is known for his knowledge of ocular pathology.
He is committed to ongoing learning and devotes time to keeping up to date with continuing education and training.
Mohammed lives in Bradford. He enjoys reading as well as playing and following cricket.
Frame of choice:
Ralph Lauren Polo
Lenses of choice:
Zeiss